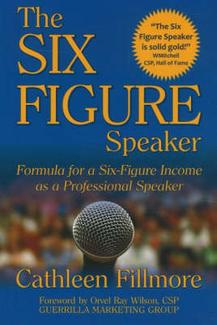 The Six-Figure Speaker: Formula for a Six-Figure Income As a Professional Speaker
by Cathleen Fillmore
| | |
| --- | --- |
| ISBN | 978-1931741927 |
| Format | Paperback |
| Publisher | Robert Reed Publishers |
| Published | United States, 01 January 2008 |
This book is not for beginners. It's not filled with tips on how to be an effective speaker. It has nothing to do with how to project your voice, how to organize a speech, or how to overcome shyness. This book is for the public speaker ready to take it to the next level, the speaker who is ready to go out and speak professionally to organizations and make large sums of money, starting at $2,500. If you're that person, read this book. If you're shy, read another book first. If you're still learning to be a public speaker, but you're passionate about it, read this book so you can take your career to the next level. This is the book every public speaker should use as a roadmap toward career success.
The book is less about public speaking than about how to market yourself as a public speaker and how to get paid what you deserve. There is a wide variety of information and viewpoints. From websites to one sheets, bureaus to referrals, repeat clients to getting new clients, it's ALL in here. The individual chapters or essays cover everything from how to market yourself as a public speaker using a website, to figuring out how much to charge for your speeches, and turning down speaking engagements if they are not right for you.
The book is worth it just for all the resources to other websites and books. I also appreciated the section for notes in the back—I took plenty while reading. Go out and buy "The Six Figure Speaker." Don't be a public speaker without it!
"If you're looking for ideas on how to break into the speaker market, succeed and come through it alive and thriving then "The Six-Figure Speaker" is the book for you."
---
Option A

You can buy this book

Best price for Australians:

or you can buy it from:
Option B

Buy the book as part of a "Pivotal Package"

"Six figure Speaker Pivotal Package"

...Create and present confident, effective presentations for a six-figure income...

You get
1. Six Figure Speaker (this book)

2. 2 eBooks

Overcome the fear of public speaking - experts tell

How to write and prepare a great speech

3. 2 videos

Designing effective PowerPoint slides

Stop annoying vocal pops and clicks

4. 1 report

Keeping audience attention throughout your presentation

5. 1 34-page collection of quotations useful for speakers

$19.95

$17.95

$23.95

$17.95

$19.95
---
Total Value: $109.75 You pay $34.95 - way less than half price! Click on the Buy Now button ...
Need more information?
Click here for details of all of the items in the package